Just a place holder. Remove this post when you add one yourself.
I live in Columbus, Ohio; tiki aficionados the world over know Columbus is significant.  That's because Columbus was the home of the Kahiki, which was one of the most renowned destination restaurants in the country.  If only it hadn't been torn down in 2002 to make way for a Walgreens.  Go figure…but, let me continue.
Tikiphiles are giddy knowing that interest in Polynesian pop is on the rise and tiki locations are either opening or re-opening across the globe. The question floating on Columbus streets for a long time was "when is C-bus going to get a tiki bar again?"   Well, as of September of this year, that question was answered.  The fortunes shined on us once again, and Columbus can proudly proclaim once gain that it has a tiki destination!
Mind you, this is not just another sports bar done up in bamboo and
cheap Asian imports.  This is a real-deal tiki bar doing honor to Columbus' rich heritage with the Kahiki.  The place is called the Grass Skirt Tiki Room, located at 105 N. Grant Avenue just east of downtown.  That's adjacent to the campus of The Columbus College of Art and Design which may prove useful as I'll point out momentarily.
As I mentioned, this isn't a droll island-inspired look slapped on an otherwise pedestrian hotel bar. This is a well-executed revival – the kind of place that used to define a tiki bar was back in the day.   Inside you'll find accoutrements from Witco, Ocean Arts, and all manor of vintage Polypop gracing everything from the entrance to the bar.  Vintage exotica, lounge, and surf music is the resident soundtrack, stemming from their huge collection of vintage vinyl, some of which local exotica music legend Jeff Chenault had his hand in.  The staff decks themselves in vintage clothing – heck, so do half the customers.
There is a lava wall, and waterfalls, and every imaginable size and type of tiki statue and mug throughout the place. If you like tiki, it's almost a museum of collectibles, some of which was happily donated by local customers.  The owners state that they want to dedicate an area of the restaurant to spotlight some significant vintage items they have from the Kahiki.  Oh yes…and there's not a plasma TV to be found anywhere. This is the kind of place, that when the door closes behind you, the modern world is shut out and you are transported to another world.   It's one of the few places anywhere where you don't see people glued to their smart phones (with the exception of them taking photos of the place)!
So, what about the drinks? You can't have a good tiki bar without good drinks, and Grass Skirt's are stellar!  I really don't like the word mixologist, but these guys know what they are doing, so it's a fitting tile. Their creations are handmade, and mainly from vintage recipes – no corn syrup-based swill from a bottle here.   And, yes, you can get your libations in a tiki mug (yours to keep) for a small extra cost.  Currently, they are using collectible, but restaurant-grade tiki mugs.  The word is, they might enlist artists from the Columbus College of Art and Design to design signature mugs for the restaurant.
The food menu is brief and leans towards Hawaiian and Cantonese as you would expect.  I've tried the Loco Moco (that's a Hawaiian lunch plate comprised of two hamburgers topped with fried egg and gravy over rice), along with their egg rolls, and dumplings.  They were all good and complimented the Pacific island theme.  My wonderful server explained to me that the menu is a work in progress and they are going to be bringing out more Asian-Pacific inspired dishes as they settled in.
I never had the opportunity to visit the Kahiki because I moved to Columbus a mere year too late. I wish I had; it's clearly my misfortune.  But, I count as a new blessing that the Grass Skirt Tiki Room has opened here in town and I can go there.  It's a fun, amazing place to patronize, and they are doing good justice in a town with a bit of a Tiki Pedigree.
Posted in
Tiki - Space Age
Tagged

Columbus, exotica, hawaiian, Kahiki, mai tai, OH, Ohio, polynesian, polypop, retro, tiki, vintage
Leave a comment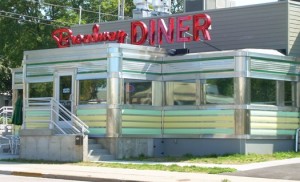 The final tally was three visits in as many days.  It would have been four,  but our travels were taking us in a direction away from the diner on the final leg of our trip.   The visits included a first visit of indulging in pie and coffee, followed by a family dinner that same evening, followed by a 5-person lunch with the in-laws the day after that.
All totaled we traversed three kinds of pie, burgers, homemade corned beef hash, a rueben, chicken fried steak, and something called a grilled mac and cheese with pulled pork sandwhich (yes…it's all on the sandwich).  Everyone enjoyed their visits, and nobody went hungry.
Any diner aficionado reading this publication probably understands that finding a real-deal diner outside of the traditional digs on the east coast is always a pleasure.  Finding one by accident is pure serendipity. That was the case with us – literally stumbling upon the diner on a quick tourist jaunt through a little mid-west town.  The Broadway Diner is located in Baraboo, WI within about 20 minutes of the area of Wisconsin known as the Wisconsin Dells.  Baraboo is a quaint town, well worth a visit if you are in the Dells, and the centerpiece of your visit should be the Broadway.
The Broadway Diner is a fully restored 1954 Silk City built by the Patterson Vehicle Company in Patterson, NJ.  It spent much of its time in Groton, CT know as the Bridge Diner, Twin Bridge Diner and finally Rosie's Diner (not the famed one of the Bounty paper towel ads) until the property was eventually sold.  Diversified Diners of Cleveland then bought the diner to restore.  The current owners, Jeff and Vonnie Castree purchased it in 2011 and opened for business in late spring of 2012.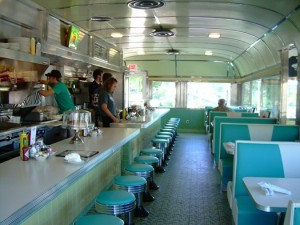 When we visited they were a mere two months in business; the diner is beautifully restored and they are doing a stellar job as a new restaurant!  More than a good meal, what we really enjoyed about this place was the hospitality, and the sense of community among patrons and staff.   Yet, even as tourists, we never felt like outsiders – even amid a room full of locals.  We had conversations – real conversations – with at least a half dozen staff there, I'm sure.  Patrons often chimed in, and the effect was, well…neighborly.   All of them were undeniably proud of their place, and the comradery was the kind virtually unique to the mid-west.  I guess that's a main reason why we went back so many times –  it was not just for comfort food, but for a comfortable place where people made you feel at home.
About that food – it's comfort food done right; nuff said!  That grilled mac and cheese with pulled pork sandwich (add the cole slaw for a North Carolina flare) was messy, tasty, and fun to eat.  The home-made corned beef hash?  A meal in itself.  For me, though, the kicker was the pie.  Marvelous coconut cream, about 3″ tall and enough real whipped cream to create a regional shortage.   And, the pecan pie? shhh…secret ingredient – bourbon, and not a shy amount either!  It would do Kentucky proud!  This was not kid's pie, and I've got to find a recipe for it.
You can find the Broadway Diner at 304 Broadway in the heart of Baraboo.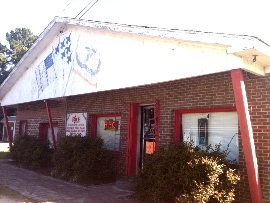 The sign of a good eatery is whether you'd go back.  The sign of a great one is whether you'd go out of your way to go back.  Ray's Rib King is one of those kinds of places.
Located in Yemassee, South Carolina, Ray's is in the SC low country near Beaufort and Hilton Head.  It's about 2 miles east of the I-95 interchange at exit 38.  Yemassee is not much more than a crossroads, and most people who'd be there are probably en-route to a motel somewhere on 95 making their way south to Florida.  If that's you, book your motel stay in Yemassee.  Whatever the situation, take the diversion – get off the interstate.  Stop for a meal even if you have more miles to go.
Don't expect fancy digs. It's an unassuming brick mid-century brick building decked with picnic tables inside.  Do expect classic, mouth-watering southern cooking.
All that said, do you know what's impressive about this place?
It's a small restaurant, in a very small village, not right on the interchange, where all the other privately owned restaurants have gone out of business!   Staying open in such a small setting, that most people easily bypass, is testament to a lot of things done right.
The owner Ray greeted us with a warm handshake and took the time to talk to us. He's proud of his restaurant and likes to share that pride – and hospitality – with his guests  (how often do you get that with a corporate place?)
People deliberately forego chains as much as 12 to15 miles away to patronize his restaurant.
Good value is present as well.   On our recent visit my wife and I both ordered pork BBQ platters.  They came with 2 sides; easy enough, right?  But, they kept asking me questions about what to put on the plate!  The questions weren't upsells – they were about the accompaniments included with the platters. There were three kinds of rice (white, yellow, red) from which to select, along with corn bread if we wanted it. We were in for big meals.   Those and the sides we did order (greens, green beans, baked beans, and mac and cheese) were model southern home cooking.
BBQ over rice is probably low country fare.  The fact is, I've never had that combination before, but it really did work well.  Each of the rices was distinctive, and was a great addition to the smokey BBQ.
His name is Ray; He's the rib king.  The next time we swing east off of 95 in Yemassee…and we will…it will be for the ribs.  Can't wait for that!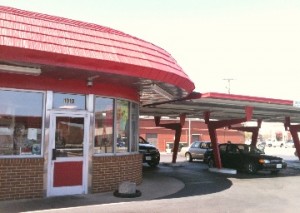 I've visited Doumar's probably a dozen times.  In fact, it was among the first of the vintage eateries I ever patronized.  My first visit was in the early 1990's and I make it a must-go stop nearly every time I'm in the Hampton Roads area of Virginia.  I credit Doumar's for being why I'm smitten with all things retro.  It's that kind of step-back-in-time experience.
Doumar's is a classic drive-in, with canopy-covered spaces, car hops, and a classic drive-in menu  It's the real deal with a century of history, and there are simply not many places like it around any more.  It's the kind of spot where you turn on your headlights when you need service and the car hops still hang a tray on your door when your meal arrives.  And, don't be surprised when you find on that tray soda shop glassware for your sundae and real tableware instead of a plastic fork.  Like I said…it's that kind of place.
Abe Doumar, the founder, is credited as being the originator of the hand rolled waffle cone in back 1904. Those cones are still being hand-made by Abe's nephew Albert today.  As you might guess, ice cream takes center stage here, not only the cones, but a truly exceptional menu of shakes and floats.   They are one of my favored places for root beer shakes because they make them just right – with both root beer and vanilla flavor shining through.  Better yet – they're not simply an ice cream stand, so plan on a meal here if you can.  Doumar's is also famous for their barbeque sandwiches. The barbeque is fantastic;  it's kind of a North Carolina-style variation, minced with coleslaw as a topper.  If burgers are your preference, they are a fine option.  Oh yes…there are also home made limeades!   You can even get breakfast there.  My quandray each time I visit is how to assemble a meal of all my favorites without overdoing it!
This place has a truly humble air to it, and there's a visceral sense of its history here. At the same time, it really commands some respect, not only for it's amazing history but by the notoriety earned along the years.  They've been featured in Gourmet Magazine, have a James Beard award and three "Best of" City Search awards.  And, it's no surprise that Diners, Drive-ins and Dives has profiled this classic.
Doumar's is about 2 miles northeast of the Norfolk Waterside area.  The best route is to take St. Paul's Blvd which merges onto Monticello Ave.  If you are in Virginia Beach, take I-264 West and exit at City Hall Ave followed by a right on St. Paul's and then merge onto Monticello.
Doumar's is located at 1919 Monticello Ave, Norfolk, VA

View Larger Map